Websites working together...
gets people working together.
Quality Flightdec websites publish content to each other. That means every website can expect more content, more connectivity and many more visitors:
Your website's valuable content can be exposed as never before; out to other websites where it's relevant and welcome

Networking encourages sharing between websites and much richer and more dynamic content

Websites no longer need to be static, isolated and boring, and instantly generated links build much more search traffic (SEO) back to your website.
LEARN MORE >> GET A WEBSITE >> TRY FOR FREE >>
Collective Impact in communities

Communities and organisations in New Zealand and overseas are using the Collective Impact model to generate positive social change through getting organisations to work together around a common agenda.
Flightdec's community development capabilities are ideal in providing online infrastructure and communications support mechanisms. We are currently working with some of the first Collective Impact initiatives in New Zealand.
Read more on Collective Impact and Flightdec. LEARN MORE >>
Online communities using Flightdec
Each of these websites acts as a hub for an online community of many contributing websites.
Websites can apply to join these groups to share content within that group. Read more about Flightdec groups and communities >>
Issues.co.nz is an online soapbox for anyone with something serious to contribute on issues of the day. All posts are made directly from other Flightdec websites and can appear automatically in Issues.co.nz the moment the post is released. Visitors viewing the feed of content from contributing websites can then contribute with their own comments.
OurPorirua.com represents an urban community just north of Wellington in New Zealand. It promotes "the voice of a proud community" through the content sharing and connectivity of the community itself. The site receives content from a growing number of satellite websites dedicated to areas such as education, health, activities and sport.
Technology Valley is on an industry-led mission to transform the Wellington region (in New Zealand) into a prime centre for economic and export growth, primarily based on advanced manufacturing. The hub website is a crucial element in connecting businesses and services to each other and the sharing of news, resources, ideas, events and views.
The 9 benefits other websites can't match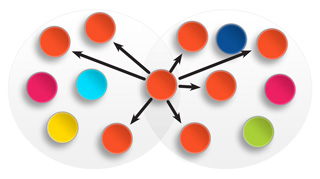 Information, resources, ideas and advice shape our organisational lives, especially if they can be shared better. You can now radically improve engagement for those important to you and build more online traffic for your online community?